English/history
History
Originally Buells name was Pittsburgh Performance Products. Before it became Buell then it get the name Buell Motorcycle Company.
But it all started in 1983 by Erik Buell.
Erik began his biker career to drive cross and then went over to Roadracing. However his Motorcycleinterest was larger than that and he started working at Harley Davidson in Milwaukee in 1979 where he got to work with concept bikes.
Erik and his racing team had built his own bike the RW750 was a motorcycle with a liquid cooled twostroke engine from a small British engine manufacturer named Barton with a top speed of 177 miles/h, which was built to compete in the AMA Formula One.

Then Erik and his team build one more bike which they sold to another team. But just when the machine was sold the rules changed for AMA Formula One  
So there was no further start for Pittsburgh Performance Products.
But maybe this was good for us who love Buell for now decided Erik Buell to build sport motorcycle for the street that was designed and built in the USA.
The new bike which came out in 1987 was named RR1000 Battle Twin and was based on a Harley Davidson XR1000 engine .
Already at that time the shock absorber was positioned under the engine as it is still on Buell.

50 pcs RR1000 manufactured from 1987 to 1988 before Xr1000 engines run out of Harley.
In 1989 the new updated model come out that was based on Harley Davidson's Evolution engine of 1203 cc , the new model was named RR1200 Battle Twin. 65pcs manufactured.....

The following year , a two-seat model called Rs1200 Westwind produced in 105 copies.

1991 Harley Davidson come whit a five-speed box that came to be used in Rs1200an.
The same year it also came a single-seater version of Rs1200 named RSS1200 Westwind.
It was manufactured 325st RS and RSS until 1993.
1993 Harley Davidson bought up 49% of the shares of Buell. Then they changed its name to Buell Motorcycle Company.
In 1994 the first S2 Thunderbolt come who became the first model of Harley Davidson as a partner. The next year came a sport touring named S2T. Both are widely praised in the press and sold over 1,000 copies combined.


In 1996 came S1 Lightning out. The Motorcycle As Buell calls the first real street fighter. It had sixpiston brake calipers and an Orderly big brake disc.

In 1998, came a variant of S1 named S1W it had larger tank and a Thunderstorm top that resulted in 10 extra horsepower.
1996 was also the year that S3 Thunderbolt and the Thunderbolt S3T came. If S1an va a street fighter so was this more of a long distance bike. It was also on this model as the old carburetor was changed to injection. Dynamic Digital Fuel Injection (DDFI)

1997 came a motorcycle which was midway between the light S1 and the heavier S3. It was named M2 Cyclone which was more of a roadster.

1998 came X1 Lightning. Whish was a improvement in judgment earlier models which had problems with overheating of the rear cylinder. But it had been arranged on X1
They had also listened to the criticism that they earlier models had so big and ugly air filter which they might not really managed to solve so good at X1an. Even the muffler thought the critics were too visible to them earlier models so X1a got a cover over the muffler.
Furthermore mounted ignition switch on top of the instrumentation.

In 1999 opened a new research and development department that was connected to the factory in East Troy.
The first thing they got up there was a little strange and unexpected motorcycle. The was a Buell with only one cylinder.
Blast became the name of this motorcycle that was to be sold between 2000-2009 for manufactured makes it actually remains of Harley Davidson using it in their "learning center"
It was a motorcycle that was designed to get more people to ride motorcycles. It would be so easy and effortless as possible to suit the beginner well. And was intended as an entry-level model to a V-twin Harley or Buell.

In 2003 they showed up a brand new model with new technology. It was then XB series was first produced.
And it started with the Firebolt XB9R that instead of iron pipe frame as the old buell had so got now XB9an an aluminum frame which also served as a gas tank. And in the back swing have they build in the oil tank.
Another new feature was the large front brake disc as on XB9an was mounted on the rim instead of the hub.

The following year came the big brother of XB9R. XB12R which had an engine of 1203cc in place of 984cc which XB9R had.
Otherwise, they were almost identical.
Then came a whole plethora of XB models one for every occasion.
Buell Lightning CityX XB9SX

Buell Lightning Long XB12S

Buell Lightning XB12S

Buell Lightning XB12Scg
Buell Lightning XB12STT

Buell XB12X

Buell XB12XT

As you can see they also get into the off road market with the XB model.
Even a pure racing bike built for the track was made in 2006 with the XB basis.
Buell XBRR 

In 2008 Buell start a partnership with the Austrian engine manufacturer Rotax.
And the new Buell 1125R came on the market with a Rotax engine instead of a Harley engine.

1125R is the most powerful model ever from Buell with 146HP at the crankshaft.
2009 came a new version of the 1125R named 1125CR which was more of a cafe racer and had longer swing and wheelbase.

Even Buell 1125 was built as pure track bike and was then called 1125RR

October 30, 2009 Buell shut down by Harley. And an era came to an end. : (
But right after that Harley had put down Buell so notice Erik Buell that he will launch a new company whit the name Erik Buell Racing and they will continue to build track bikes and they will use 1125 for this purpose.
2010 they launch a new model named 1190RR

1190RR is based on the 1125RR but has gained more power in the engine. 185 rear wheel horses have managed to get out of the engine.
1190RR was built to compete in the AMA (America superbike)
In 2011 Buell was back on the street but now whit new name, EBR (Erik Buell Racing) 
The new bike was named 1190RS and developed 175hp. But only 100 motorcycles was built.
On July 1, 2013, Hero motor corp, an Indian motorcycle giant, acquired 49.2% stake in the company for $25 million
The two companies announced that EBR will distribute Hero motorcycles and scooters in North America starting in the summer of 2014.
On 16 October 2013, Erik Buell Racing officially unveiled their first production motorcycle, the EBR 1190RX
With a Rotax engine with 185hp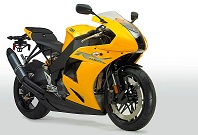 And more to come :) on EBRs Home site you can buy the new EBR